A solar pool blanket can be used throughout the swimming season and with the assistane of a quality pool cover roller, it will save you time and make it effortless to wind the pool blanket up and roll it back on. Rolled out over your swimming pool when not in use a solar blanket will trap heat, retain that warmth, stop water loss as well as deliver all other benefits as listed below. Solar pool blankets will add months to your swimming season, and of course you can leave this cover on your pool over the winter months or extended periods of non-use.
Pool & Property works closely with the top market leader in swimming pool cover manufacturers. You will receive from us unbiased advice and competitive prices. We arrange for your pool a complete custom made cover supplied, fitted and warranted. We also offer a variety of reels both manual and automatic.
Walco Solar Blankets
Walco is an Adelaide based company with the most up-to-date manufacturing equipment and use the highest quality materials. The Solar Pool Blanket retains heat. Shortwave solar energy passes easily through the solar blanket. Heat retained in gthe water, which radiates at longer wavelengths, is restricted by the special design of the blanket so it can't readily dissipate into the surrounding atmosphere. Walco solar pool blankets suit virtually every above ground or in-ground pool, regardless of their shape. Matching Solar Reels are available in a wide range of standard sizes and custom sizes can be fabricated to special order.
Quality Guarantee
300 Micron Blanket - 3 year pro-rata warranty
400 Micron Blanket - 5 year pro-rata warranty
500 Micron Blanket - 8 year pro-rata warranty
Thermal 500 Blanket - 8 year pro-rata warranty (for heated pools)
The thickness of the material does not significantly alter the heat collection or heat retention of the cover, but the thicker the material is more durable and will have a longer lifespan. The 500 micron Solar Blanket is recommended for most pools because of its long service life. However, on larger pools where the weight of the cover is a greater consideration, the 400 micron blanket will be easier to manage.
For heated pools, the 500 Thermal Solar Blanket is the premium product and comes with a 8 year pro-rata warranty.
Contact us for expert advice on selecting the correct Solar Blanket to suit your lifestyle and budget.
Benefits of Solar Pool Blankets:
Save on Water Loss
A pool cover can save up to 10,000 litres per month. In fact the average size pool can lose one and a half times the total volume. So a 50,000 litre pool can lose 75,000 litres of water through the swimming season. Installing a pool cover means you don't need to run the hose for about an hour once a week through the summer.
Raises the Water Temperature
Raises the water temperature by up to 8oC. Correctly fitted, a solar blanket converts your pool into a gian solar collector, absorbing maximum energy and temperature through the day and preventing heat loss as the outside temperature falls overnight.
Lower Pool Maintenance
With a correctly fitted pool blanket most leaves, debris, dust and dirt are collected on the blanket where they can be easily hosed off the surface of the blanket to be collected in the skimmer box, saving hours each year in time consuming vacuuming and cleaning.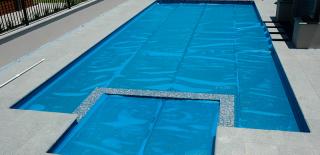 Save on Heat Loss
Solar blankets provide your pool with thermal insulating properties that maintain your pool's temperature for longer. The blanket reduces evaporative heat loss by up to 75%. This will substantially save you money on heating bills and help save valuable energy resources.
Save on Chemicals
A pool cover cuts salt and chemical use by up to 50%. A major cost of pool maintenance. Not matter what form chlorine is added to the pool water it eventually returns to it's natural state as a gas and escapes into the atmosphere. With a cover in use the gas is trapped and stays in the water longer. However, as the gas accumulates and concentrates on the warmer surface, these extreme conditions increase blanket degradation. A high quality cover can withstand these extreme conditions.
Australian Made
Walco is an Australian made material and suited to Australian conditions. It is available in a number of differnet gauges 300, 400 and 500 micron, and is digitally measured and cut.
Walco Pool Rollers
Solar Rollers provide the simplest, most efficient means of covering, uncovering and storing Solar Pool Blankets.
Features:
Strong one piece roller which won't sag - not telescopic that can sag over time.
Rust and stain proof - made from anodised aluminium, that will not stain, discolour or rust over time.
Power-coated for a longer lasting finish
Robust and sturdy mobile castors
Easy to operate - no ties or fasteners to slow you down.
Easy to handle - Solar Reels are lightweight and fully portable -when space is at a premium.
Require minimal maintenance - constructed from non-corrosive, heavy duty compounds.
Portability - available with optional castors for mobility
Protective Overcover - a specially developed protective overcover is supplied with every reel, ensuring maximum protection for the Solar Blanket
Suitable for above-ground pools
Contact us for expert advice on selecting the correct Pool Roller to suit your lifestyle and budget.